My new book, GOLDEN STATE, will be published by my good friends at Mulholland/Little, Brown on January 22.
You can preorder right here.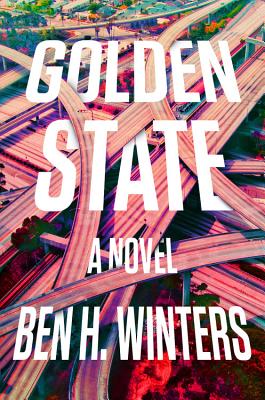 I am allowed to say this, because I'm the author: this book is bonkers. It's a murder mystery about the dissolution of objective reality, set in what may or may not be an alternate-reality iteration of California.
Like UNDERGROUND AIRLINES, and like the books in my Last Policeman trilogy, this new one is sort of in the shape of a mystery novel, but it has elements that may make some readers consider it science-fiction. It's also a little philosophical, a little political, a little poetic, a little sad, a little funny.
Whatever it is, I am VERY proud of it, and excited for you to read it.
This is the official description from the publisher, which is better than mine and should have gone first:
In a strange alternate society that values law and truth above all else, Laszlo Ratesic is a nineteen-year veteran of the Speculative Service. He lives in the Golden State, a nation standing where California once did, a place where like-minded Americans retreated after the erosion of truth and the spread of lies made public life and governance impossible.
In the Golden State, knowingly contradicting the truth is the greatest crime–and stopping those crimes is Laz's job. In its service, he is one of the few individuals permitted to harbor untruths, to "speculate" on what might have happened. But the Golden State is less a paradise than its name might suggest. To monitor, verify, and enforce the truth requires a veritable panopticon of surveillance and recording. And when those in control of the facts twist them for nefarious means, the Speculators are the only ones with the power to fight back.
& here are some very nice quotes from early readers:
"A perfectly poised ontological-thriller-comedy-dystopian-allegorical-page-turner, yet with tenderly real characters in its chewy center, this turned out to be just the thing I was looking for."—Jonathan Lethem, author of Fortress of Solitude
"Not many writers would take on Orwell, Ray Bradbury, the nature of truth, and the current administration all at a blow. Big shoes to fill–and they fit Ben H. Winters just fine. Golden Stategrabs notions of disinformation and literalism and brilliantly turns them on their head to see what falls from their pockets."—James Sallis, author of Drive
"Golden State is a prescient, devastating commentary on humanity's disintegrating attachment to reality and truth, expertly-told through the prism of a police-procedural, dystopian nightmare. Winters has written a 1984 for the 21st Century. Not just a thrilling book, but an important one." —Blake Crouch, author of Dark Matter
"The author of the Last Policeman trilogy and the stand-alone Underground Airlines (2016) adds another thought-provoking, genre-bending SF thriller to his bibliography. . . . Another fine novel from a writer whose imagination knows no bounds."—Booklist
"A skillful and swift-moving concoction . . . For those who like their dystopias with a dash of humor. No lie."—Kirkus Reviews